The Skinny
5 mile time - 27:46
pace - 5:33
place - 44th
1 - 5.21
2 - 5.30
3 - 5.38
4 - 5.45
5 - 5.32
The Report
prerace
This being my first race since the February injury I was a little more jittery than normal. I really had no idea about my fitness level. I had done a couple of progressions that got down to low 6:00 pace, but that's it. No real speedwork and I haven't run a mile in under 6:00 since the Foxboro Old Fashioned 10 Miler.
I was psyched to see my CMS teammates. It had been too long. After a little chitchat, we headed out for a solid three mile warm-up. We could tell it was going to be hot. I found myself with plenty of time prerace and did all the requisite stretching and drills. Right before the start I gave the girls kisses and was off.
the race
I didn't have a firm grasp of pace. I was waiting for the first mile marker so I knew how fast I was going. I deduced it wasn't that fast because a bunch of guys with whom I am normally competitive were way ahead of me. Needless to say, I was surprised to hit mile 1 in 5:20. Throughout the first two miles, I moved up and passed people. At three, I settled in with a good group: teammates Matt Clark and Chris Mahoney, Joe Donnelly, Doug Martyn, and John Barbour. I have to tell you, these dudes are competitive. It was great. We battled back and forth, threw in surges, and nobody was willing to give an inch. In the last half mile, things really got hot and heavy. Terry McNatt, Jason Cakouros, and Jonathan May joined the fun. I knew I was nowhere near a PR but I still pushed hard and gave it a full-out kick. It felt so good to race and mix it up in a GPS race!
postrace
Some more chitchat and refueling with the CMS boys. People seemed really receptive to the new running magazine, Level Renner, and I hope people decide to pick it up. After a few more miles and some stretching it was time to go home. A good morning...
When I got home, I looked up my results from 1999, the last time I ran this race. I've done it a couple of times but was lazy and only looked up '99. Result: 26:20 for 5th. Obviously, not a GPS year.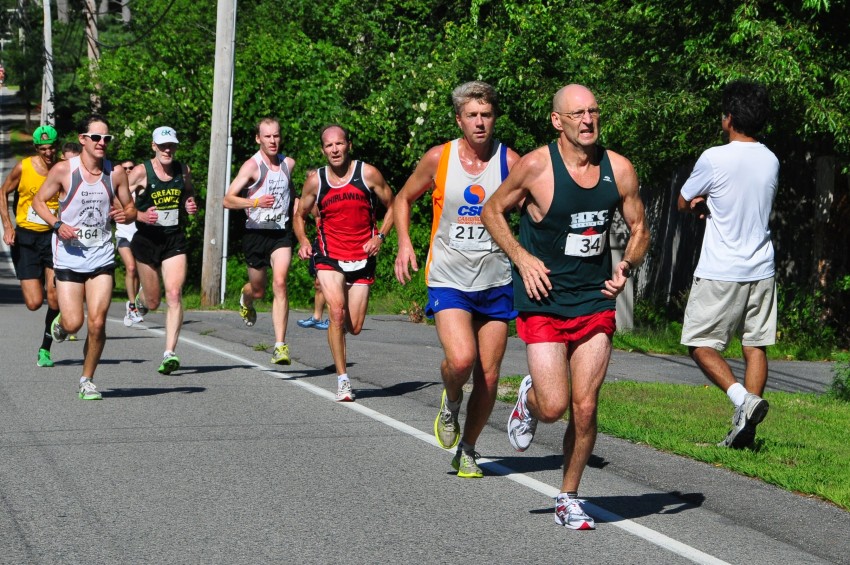 Following some legends in club racing.
Photo courtesy Ted and Mary Tyler via Jim Rhoades.