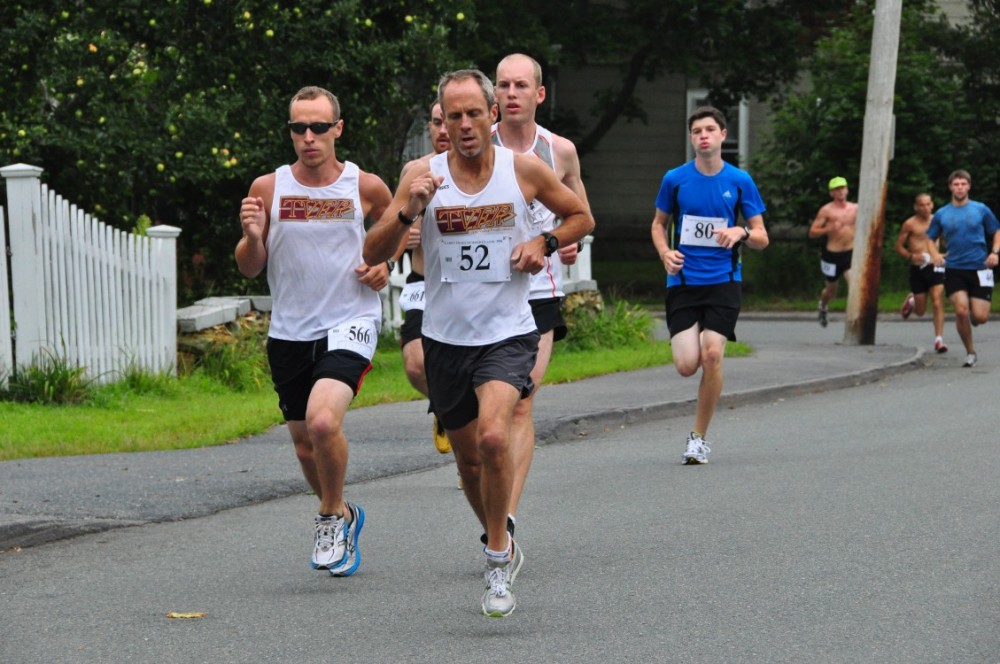 mile 1; photo by Ted Tyler
The Skinny
Place: 1st
Time: 35:32
When I walked out my door, I noticed two things: 1)everything was wet, 2) it was humid. Those two things stayed constant throughout the early morning and throughout the race.
After the normal prerace routine and a pleasant chat with Ted Tyler, who graciously gave me permission to use all his photography in Level Renner, I was off to the starting line. There, a couple guys were making idle, nervous chat about how they were dreading the upcoming race. Hearing that palaver, I immediately crossed them off the list of contenders.
I wanted to go in a controlled first mile. I did with a 5:36. At this point, I was running with Glenn Miller of TVFR and in second place about 10-20 meters behind the leader. The second mile is all uphill and the leader, Keith Neal, started to slow a bit on the incline. I felt strong and worked the hill taking the lead. Now, this is where I started to think that the markers were off b/c I ran a 5:19 second mile and the thing was just about straight up. The third mile, straight down, registered a 5:33 and I knew something was amok. That combined with the fact that all of the mile markers were "conveniently" placed at landmarks (a corner, a trailhead, the exact midpoint of a bridge) made me believe that the miles were a little off.
I was running solo as I headed into the trails. I felt like I was alone but did not look back. I wanted to try to continue to push the pace and thought I did so, but for those two trail miles I slowed considerably. I'm hoping it wasn't just me. I'm hoping the trails contributed to the flagging pace along with those miles being a little long. They felt it.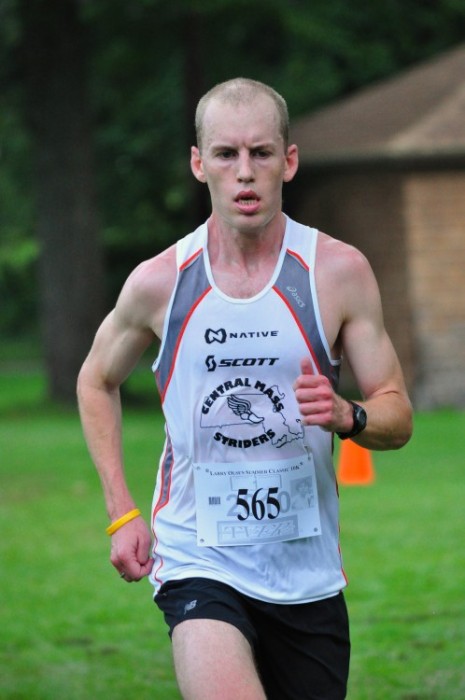 mile 5; photo by Ted Tyler
The last mile is all road and I came off those back to back 6:13's with a 5:31. This gave me some confidence postrace b/c I was hoping to average low 5:30s. I crossed the finish line and the clock read a disappointing 35:32 (hoping for 34:low), but I once again felt good to lace 'em up and race. That give me a jolt in itself.
Surprisingly, I felt peppy on the cooldown and did a solid 4.5 on the trails. Unfortunately, some woman fell in the trails and broke her arm and maybe nose (it was all bloody). I was pretty out there but had to doubleback and let a race official know (there were no race attendants in the 2 mile trail section of the race). After a call to 911, I was back on the cooldown.
At the awards ceremony I picked up a medal and t-shirt (pretty cool Larry Olsen memorial). I wanted a cup of water but they ran out…which leads to this story. Immediately following my finish I went to the 5 gallon drum to get some water. Once there, I found no cups. I asked a woman with a back tattoo and she said they were "working on it." I was pretty hot and parched, so improvised. I pulled the water bucket over to the table's edge and tried to bend down low in an effort to quench my thirst. Either the table was too low or I was too stiff but I couldn't bend down low enough to imbibe the water. Instead, I let some run over my neck and head. The woman seemed concerned that I was doing this but didn't say anything to me directly. Then, post awards ceremony I was walking back to my car and heard the tattoo woman telling a story…about ME. This is what she was saying: "That asshole who finished first dumped half the water on his head. What an asshole!" I heard her and jogged up to her. "Hey," I said. "That was me." She immediately started to back off. I said, "I wasn't being an asshole (using her language back at her for effect). I was just thirsty and you had no cups." "Oh, I just wanted to get some cups," she said. I said, "And I didn't pour half the bucket over my head. I was thirsty. I just ran a race. I'm not an asshole." She sidled up to me and kept saying she just wanted the cups to arrive. But I bet if I wasn't there she would've kept on calling me an names all the way home. I'm glad I got to straighten her out in front of her friends. But, damn tattoo woman, if you are in charge of the water, put some freakin cups out! It ain't hard. Oh and here's another thing: have enough water left so some people can have some after a cooldown. Me and this poor old man could've used a second cup.