Monday
- 12.25 in 87:44; core
Steady run w/ 10 x 1 min w/ 1 min recovery thrown into the mix. Point of the pickups was to stimulate some neuromuscular systems that have been dormant for a little too long now. Try to get some speed back in a relatively "safe" way. It was raining but the weather was nice. Real runners know what I'm talking about.
Tuesday
- 3.5 easy miles; core
Dr. Mika visit in the morning. Just a tune-up. Nothing brewing.
Wednesday
- 11.75; legcore
9 x "800" (Muddy Puddin specialty)
I did not do the repeats on the track. I did them on a loop at a park which is composed of dirt and grass paths. I have no idea the exact distance of the loop; I just start on a mulched path and end at a trimmed bush. All reps were between 2:55 (first) and 2:46 (last). I worked hard today and could feel my body start to get in shape. Good run.
Thursday
- 11 in 75:37; core
A good medium run that progressed down to 6:15 for the last mile and it felt pretty easy.
Friday
- 4 mile jog; legcore; lifting sequence at the gym
Saturday
- 12.75 w/ race
Larry Olsen 10K. 1st OA. 35:32 (two miles of trail; moderately challenging). Race report to follow.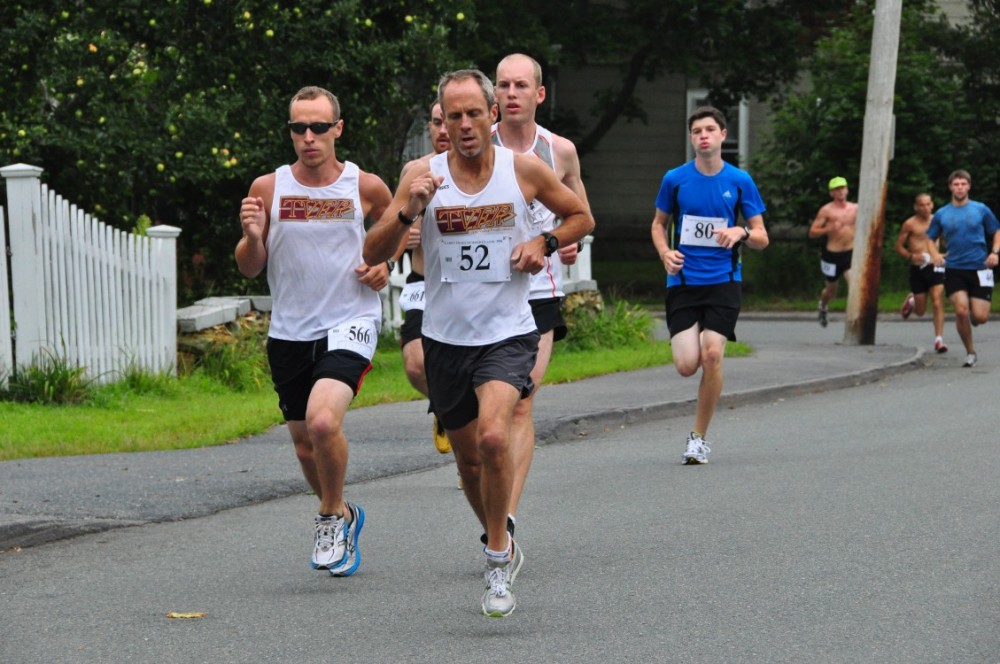 midway through mile 1; Photo by Ted Tyler
Sunday
- 14.5 recovery run
The pace was slow but I didn't feel bad. The trails today were pretty technical,which I think slowed me down a bit. Still the body felt relatively good after yesterday's race. I didn't bonk today (that sometimes happens the day after a race for me).
For the Week
69 3/4 miles
4 core workouts
1 lifting sequence
some easy biking w/ KJ
Analysis
: A good week of training. The miles are up around 70 per week now and the intensity is getting there. I am still getting in shape. Hope to see some improvement in race times soon.